Here you can see different types of accommodation we are offering, by clicking on the image you will get to the photo gallery of the chosen hotel.
attic ****
Hotel Attic in Prague 4 offers peaceful and pleasant stay in almost family environment, close to subway C – Pankrac, city transport and the Arkady Shopping Centre. The Wenceslas Square in located within 10 minutes by public transport. Hotel provides a bar and a private parking place  with electric vehicle charging station. All areas of the hotel are covered by free Wi-Fi. All rooms are equipped with TV-SAT, telephone, private bathroom with shower, toilet and hairdryer.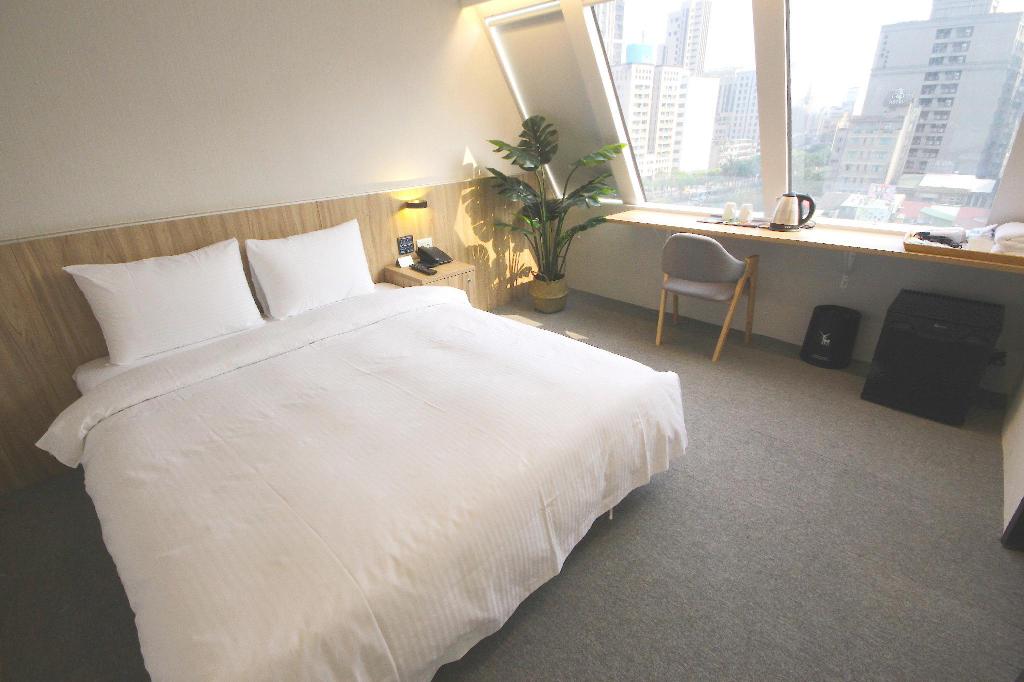 amigo ****
Hotel Amigo **** is an elegant neo-ranaissance style hotel in Prague 2 with omnipresent touch of gold. The location is great: pubs, eateries and minimarkets in proximity of the hotel. 20 minutes on foot to Wenceslas square, 10 minutes on foot to clubs Retro, Radost FX or Le Mirage.
Rooms are spacious with flat TV, aircon and safe. Bathrooms are fitted with showers, bathtubs are available only in junior suites. Bathrobe, toothbrush, shaving set, vanity set, shower cap and slippers as well as ironing facilities are available free of charge upon request, so is Wi-Fi.
Coffee ant tea set are available in the room – for fee.
You can relax in the garden terrace.
Taxi from city center for approx. 150 CZK per cab.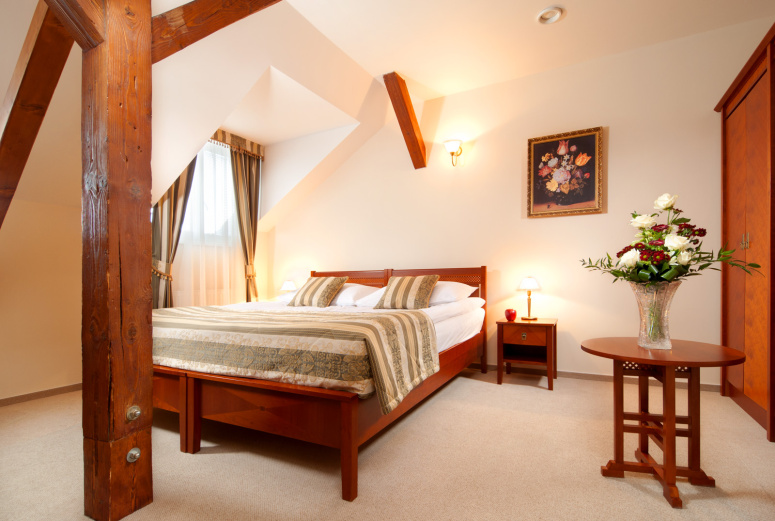 AmBASSADOR *****
Hotel Ambassador is located in the lower part of Wenceslas square,5 minutes walking from the Old town square. Rooms offer at least 25m2 of space and art-nouveau style furniture and decoration.
All marble bathrooms are spacious and fitted with hydromassage bath tub and usually with a shower as well. All rooms are equipped with flat TV with various satellite channels, safe, minibar and free Wi-fi.
You can also relax in the Welness club that offers wide range of Thai and Ayurvedic massages, wraps and scrubs and various special massages like honey, chocolate or chakra stone massages.
Ambiance ****
Ambiance is located in Prague 2, 12 minutes on foot from Wenceslas square, 7 minutes on foot from clubs Retro, Radost FX, and Le mirage. The hotel is surrounded by pubs, minimarkets and eateries.
Hotels offers smaller but cosy rooms, with safe, aircon, free Wi-Fi and excellent breakfast. You can relax in the yard terrace.
Taxi from Oldd town square for approx 250 CZK per cab.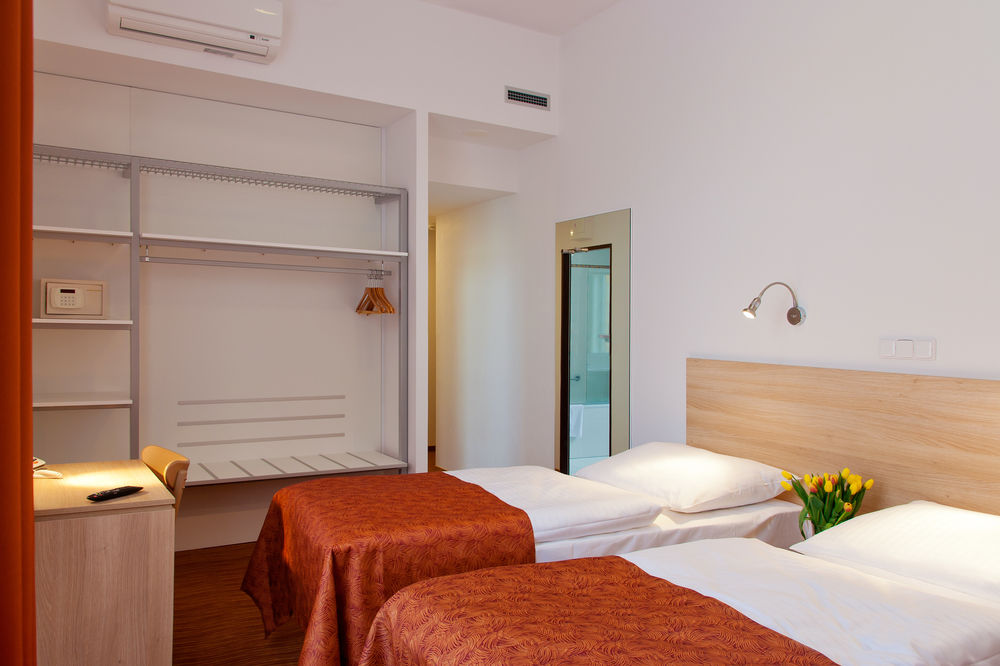 beránek ****
Offers bright, spacious and elegant rooms. Each room is equipped with TV, safe, kettle, own air-condition and fridge (minibar goods available at reception desk). Bathrooms are mainly fitted with showers. In all the building you can get fast and free Wi-Fi. It's situated in Prague 2, only 8 minutes on foot from Wenceslas square and next to an important intersection of trams, including the night ones. With tram #22 you can reach Prague Castle in 22 minutes. :) The hotel is surrounded by pubs (one in the house) and bars, several music clubs (e.g. Retro, Radost FX, Le Mirage) are close to it. Hotel Beránek is also the paradise of fans of night gluttony :) – McDonalds, KFC, pizza, kebab or chocolate bars and the "good night beer(s)" bought at the convenience store – all nonstop.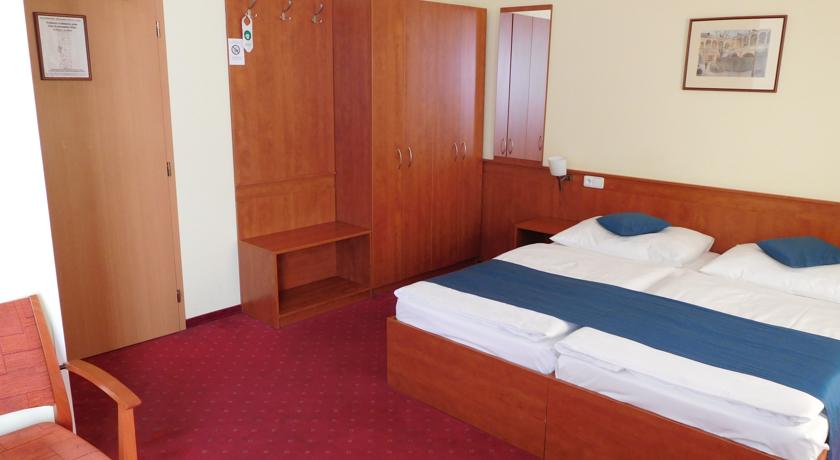 brixen ***
Simple but nice 3* hotel in Prague 2 – Vinohrady, one of the coolest Prague quarters. 12 minutes on foot from Wenceslas square (of snail rhytm :) ) Enjoy the infinite choice of pubs!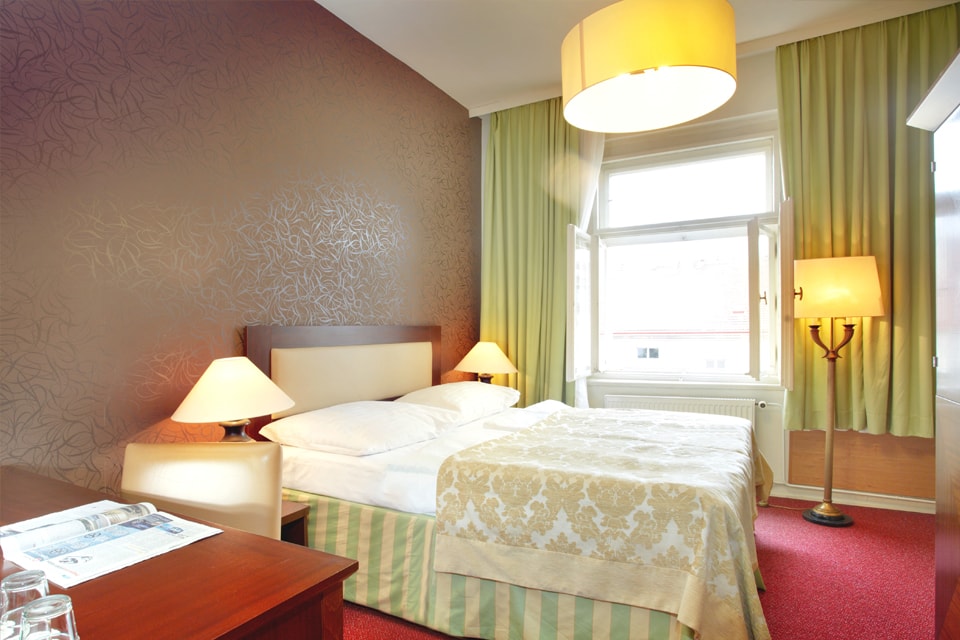 ibis prague ***
Ibis Prague is situated in the city center near to Wenceslas Square (5 min). All the rooms are equipped with air condition, satellite TV and shower. Hotel offers also wellness services and fitness center in the neighboring hotel Novotel with a discount from normal fee. Very interesting is restaurant for breakfasts with the summer terrace. You can enjoy typical Czech cuisine in their restaurant L'Estaminet.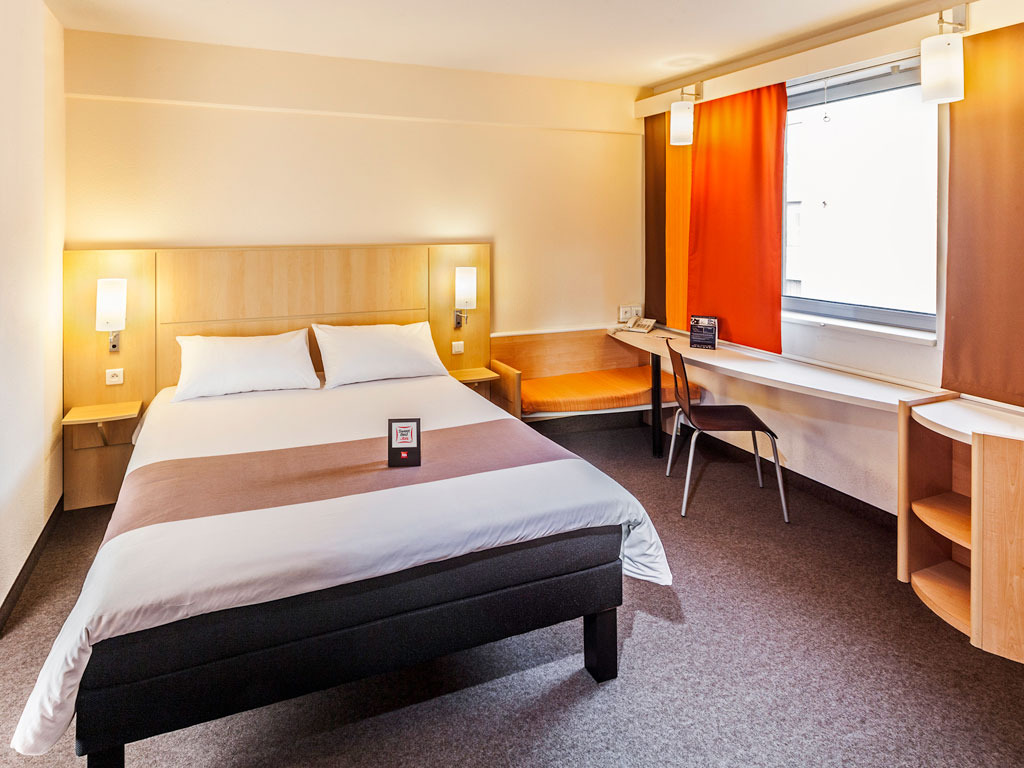 Louis leger ****
Luis Leger is a modern 4* hotel with colourful rooms in Vinohrady. Is situated 15 minutes walking (of snail rhytm :) ) Prague 2 Vinohrady is one of the most charming quarter full of pubs, cafés and clubs.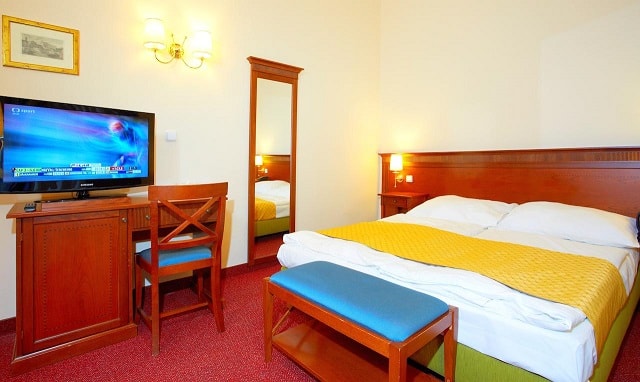 otar ***
Hotel Otar is a friendly hotel located in Prague 4 , only 200m from metro station "Pražského povstání" – you'll reach city center in less then 10 minutes. At night you can ride with taxi for approx 180 CZK (7€) per cab. In walking distance from the hotel there are numerous restaurants, bars and pubs. Its rooms are bright, equipped with sitting, TV and free Wi-fi. Bathrooms are fitted with shower.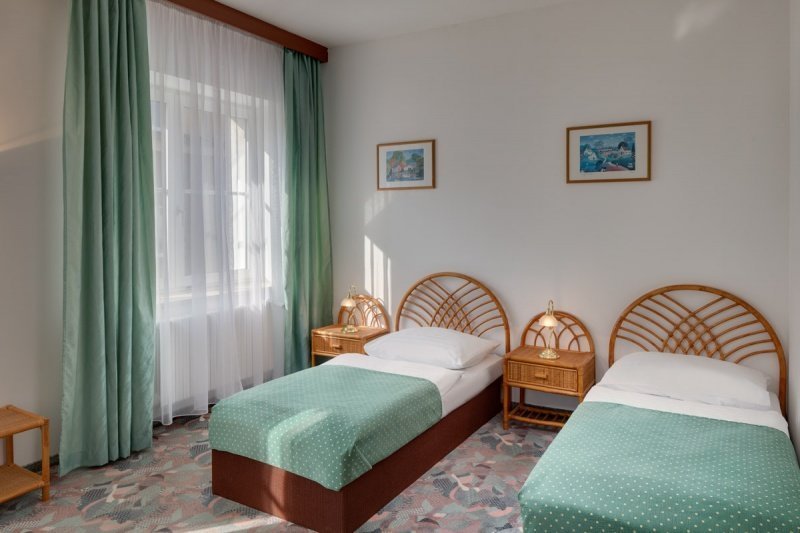 Prague Centre Plaza ***
A nice three stars is located in Prague 2 Vinohrady, one of the coolest quarters of the city. You reach the Wenceslas in 12 minutes on foot. Enjoy the infinite quantity of pub, bars and music clubs in the proximity of the hotel! In addittion you can relax in the sauna, jacuzzi or beer spa. :)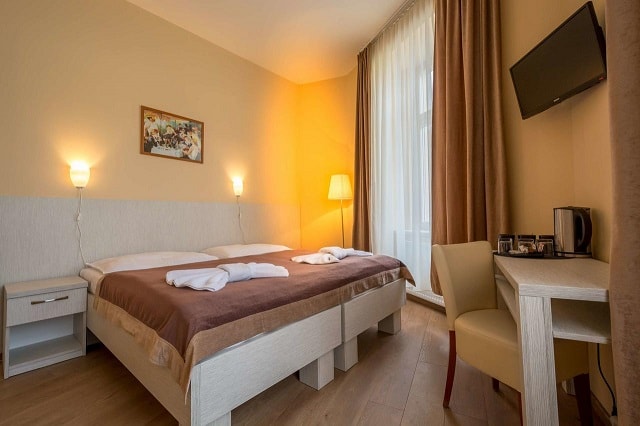 Prague Centre superior ***
Hotel Prague Centre Superior is very conveniently located within walking distance of the city center (Wenceslas Square is a 5-10 minute walk away). In the summer you can sit in the summer garden, and year-round you can relax in the hotel sauna, whirlpool, getting a classic massage or a hot stone massage. All the rooms are equipped with SAT-TV, direct-dial telephone, safe, hairdryer, minibar, sanitary facilities, etc. Hotel guests can park in the spacious underground garage.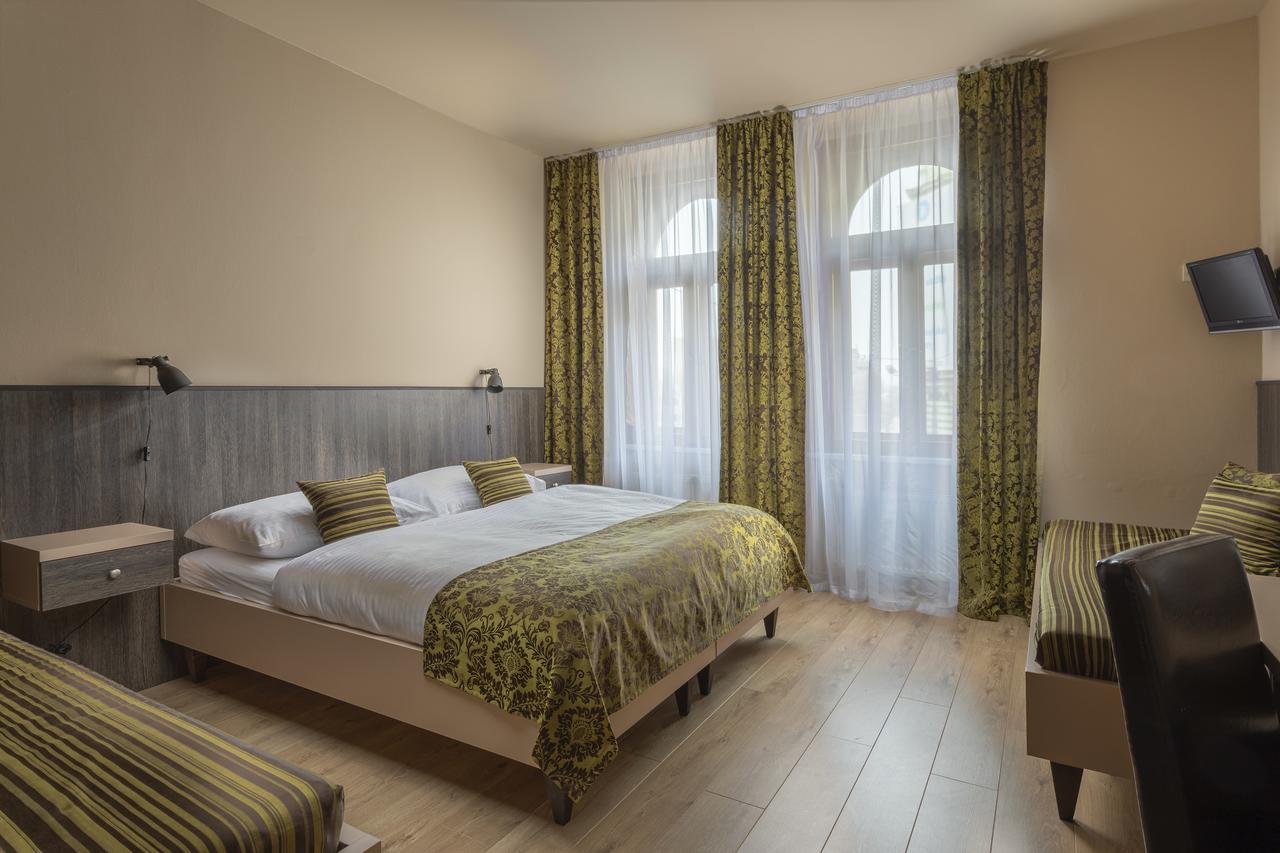 ST. george ****
Hotel St. George is situated in the center of the city, near to subway station I.P.Pavlova, approximately 15 minutes from Wenceslas square. Nearby are multiple restaurants and bars. Guests can enjoy free WiFi, climate control and flat-screen TV in every room during their stay. The rooms have bright bathrooms which come with a hairdryer, a spa bathtub or shower. Hotel offers a safety deposit box, a car park, gym and wellness centre. Lobby bar has also nice terrace to enjoy you drink.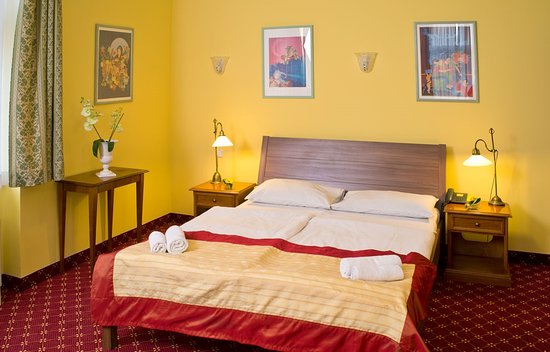 WENCESLAS ***
The Wenceslas Square Hotel is very conveniently located in the centre of Prague, just a few steps from Wenceslas Square, the National Museum, and the State Opera House, and not far from the Old Town Square and Charles Bridge.
The bright rooms are equipped with a flat-screen SAT TV, private bathroom with a shower or bathtub, toilet and free toiletries, hairdyer, Wi-Fi and minibar. All rooms offer nice view of Museum building or quiet courtyard.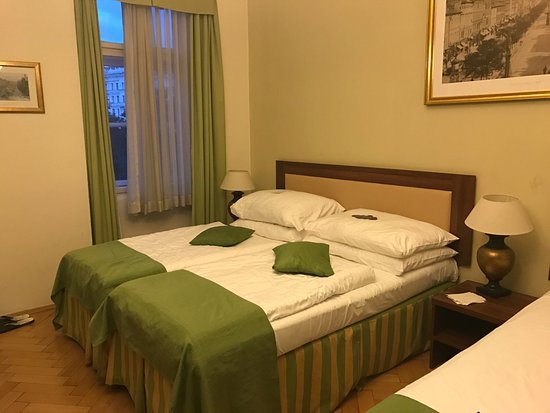 zlatá váha ***
Hotel Zlatá váha is located in a touristically and commercially attractive location near the main train station and Wenceslas square. Hotel Zlatá váha was opened after a complete reconstruction from April 2012, offers accommodation in comfortable and well equipped rooms with own sanitary facilities, TV with satellite and wireless connection.