Maria or Masha, as we call her, joined us in 2011 as a Russian speaking hostess. She proved her organization skills and she became part of the organizing team soon. She is responsible for the Russian speaking teams. How does she like the job and how was her start? Making one's way through Russian ice hockey as a female was not easy.
When did you start working for Prague's Barrel?
I got a recommendation from my friend to become a hostess in 2011. I had a meeting with Peter first, I remember it very clearly. It was in the cellar space called the office in the cultural house; it was full of smoke from cigarettes. Peter had a beer in his hand and asked me what I wanted. I first wanted water, but he asked me if I wanted wine and I happily agreed. (laugh) The next meeting was also with Sofie in the restaurant Kolkovna and we were choosing the teams for the next ice hockey tournament there.
How was your first tournament?
I had a team called ULHL (Uralic amateur ice hockey league). There were participants from different teams, they did not know each other. It was interesting. I had to get the team together, it was a challenge. I got to know that I really like to be working with people. I managed everything. I continued with the football tournament and soon got into the organizing team.
How did that happen?
Before me, Dimitrij was responsible for Russian speaking teams and Peter was not satisfied with his work anymore. And he asked me if I wanted to take the job. He saw a potential in me, he knew I had organizing skills because in 2012 one team was robbed during the ice hockey tournament and I went to the police to solve it with them, even though that was work Dimitrij was supposed to do.
I took some time to think about that proposal, I did not have any experience. I did not know how to search for the teams, how to get them to come here. I did not want to disappoint Peter. But I took it eventually.
How do you like your job in the organizing team?
I gave it everything at the beginning, I was behind the computer for 18 hours per day. I have addressed the teams, I posted adverts, I posted into different ice hockey groups. It was a lot of administrative work, but it paid off. The teams came here and they were happy. I also went to Saint Petersburg to meet representatives from different teams of Saint Petersburg's amateur league. When you are well known there, the whole of Russia knows about you.
What I love about the job is that no tournament is the same. Every team is different. We are imagining how the tournament will look like with the different teams every time. I love to be working with people.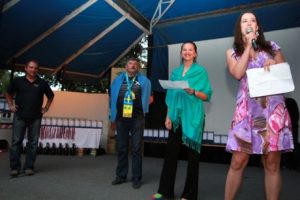 It has to be hard to make way through the environment where only men are used to being in charge?
Yes, that is true. What I know about Russian amateur ice hockey, no women are behind any tournament. At the beginning the team captains went to Martin or Peter when something was wrong. They tended to ignore me. I had to show them that it is me to whom they should come. But they understood that eventually. (laugh)
Do you think the communication with Russian speaking teams is different than with the rest of Europe?
For sure. They have totally different mentality. They also have special requirements. They want better hotels (more than five stars), they want the bus just for themselves, they want more hostesses for one team. Some teams are coming with families and they stay here more nights so it is really a vacation for them. For instance some teams are coming with a sponsor so they cannot enjoy beer that much. Even though the teams are totally different and they have all kinds of requirements, I like them all equally, because each of them has a different team spirit.