Mainly football participants know our colleague Leoš because he cannot be present for the winter ice hockey season due to his work duties. But they know him very well, he is our tournament's good soul and he will make you smile even after a very bad match. Leoš has been present at the tournament since the very beginning. How is he feeling about the progress the tournament is making?
How did you happen to be at Prague's Barrel?
Thanks to my brother, he was doing business with Peter Bašus. I started as a player for a Czech team Jablonec nad Jizerou which completed the pool of the international teams. So I was present at the first Barrel in 1993. After some years Peter asked me to also help with organisation.
How do you see Prague's Barrel from the player's point of view?
It is amazing. We were small town boys invited to the big city of Prague for an international tournament. I was 21. We saw what we have never ever seen before. (laugh) In the 90ties a lot of foreigners came to our country and we could speak with them, that was great. During one dinner we stole half a liter Pilsner glasses because we had not seen them before. It was really great even though we were just 10 teams.
Which pitch do you like better? Now we are playing in Braník and we used to play in Lhotka.
And before these in Měcholupy. I like Braník a lot. It is good that the area is so big, with so many pitches in one place.
How do you feel as an organiser?
I liked the switch from player to the organiser. I am in charge of all the beer supplies and organisation on the pitch. I love pouring the beer because I can talk with all the participants. When they arrive in the morning and have the first beer, that is great. Barrel is matter of the heart for me. I do not want to miss any tournament and I hope I can be part of it as long as possible.
You are our good soul…
I love people, I am working with people on a daily basis so it is natural for me. I love to make people happy, make fun. I hope that I will have this vibe for a long time. I want to learn English so I can speak with more participants. I am now speaking Italian, German, Polish and Russian. I like some players so much that I have been in Sweden to personally congratulate to one's 50th birthday.
We all know your famous beer cascade, how did you think of that?
One Italian player came to me once, we had a fresh beer in the morning, happy that we see each other after one year and he told me that after the first match he will show me something. And he has shown me the cascade. I can do a lot of things people think are not possible, so I immediately tried it too. I teached some hostesses how to do it and even some players came to learn it. Now I have to do it every year. (laugh)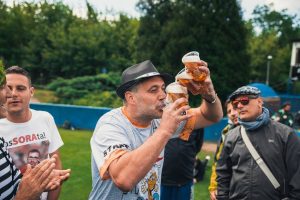 Speaking of beer, we have the Beer King contest during the ceremony. Do you think you could beat the participants?
For sure not. I can drink beer quickly but not at once. I need to swallow it, somebody not, they just pour the beer into the mouth like nothing. My brother is able to do that and I think he could beat everybody there.
You have been part of the tournament since the beginning, can you tell if the tournament changed during the years?
Tournament has changed, I see there more really good players who are not amateur in my opinion. Overall it is faster and better. I like that the tournament grew over the years and that more and more teams are coming every year. I have to say that the organisation team Peter has now is wonderful. We are doing more things and we have a good system.
What do you miss about the tournament from the previous years?
When my friend Dexter was working with us we always had a freestyle football show at the ceremony. That was great. And also when the awards were given by Antonín Panenka, our football legend. I think it was an amazing experience for the participants.
Do you have some memories from Barrel you would never forget?
I always laugh a lot when I remember that once a male hostess from a women's team from UAE wanted to make the girls happy and wore the traditional sheik clothes. Some of the participants did not recognise him and did not want to get on the bus with him. It was clarified after and everybody was laughing.
When you mentioned male hostesses, you would be a perfect match!
I would. (laugh) It would be amazing to take care of a team full of women. But I am serving my duty to Peter and he is counting on me so I will pass that opportunity to others.