Sofie has been Peter's right hand for 11 years now and she was a hostess for a few years before that. She knows the tournament from both sides. How did she find out about the tournament and did she step into the organisation? She answered all of that and more in the interview.
When did you first hear about Prague's Barrel?
In high school when a girl from a higher class came to us with a job offer at a fun tournament where we could use Italian. I went to the interview and Peter said to us "You can have anything to drink except shots." and he has ordered a beer for himself. All the other girls ordered water without bubbles, water with lemon or lightly carbonated water. I ordered a glass of red wine and saw that Peter's eyes lightened up and knew that I had passed. The evening ended up with many shots of Becherovka.
So you came to the football tournament after that, how was it?
It was 2008, I got an Italian team Caricentro CSAIN from Florence. They came on Wednesday so we were together for 5 beautiful days. It was funny at the beginning because they were speaking Italian I did not know. Then I realized that they pronounce H instead of K. Everyone was totally different, one was still shooting on camera, another was worried all the time, another wanted to know what his butt looked like in the trousers etc. It was nice. I did not observe the tournament much, I was only taking care of my team and making sure I knew where to be and when. But it was fun, a lot of beer and a great atmosphere.
You liked it so you continued as a hostess?
Yes, it was a great extra income and they have reached me next year too. And the next year and next year. And then I was at the right place at the right time – carrying a tray full of Becherovka shots with a big smile when Peter saw me and called up to me. He was just in the process of creating a new team, as I found out later his right hand Mirka was leaving. So in 2010 I became a part of the organising team.
How was the change from being a hostess and becoming an organiser?
The change is big, as a hostess you live inside the team the whole weekend, as an organiser you have a long preparation time filling up the Excel spreadsheets and trying to make everything work. You are in an expectation time, because you are communicating with the team leader for a year and have to wait to see how he looks and how he is in person and you are looking forward to getting a beer with him on Thursday when the tournament begins. And now in the coronavirus time it is 2 or 3 years communicating with somebody without actually seeing them. As a hostess you come to the team and get to know everybody right away. And that is one thing I am missing. As a hostess I knew every teammate, I talked with everybody, knew what they were doing in life etc. As an organiser I do not have the opportunity to talk with everybody, sadly.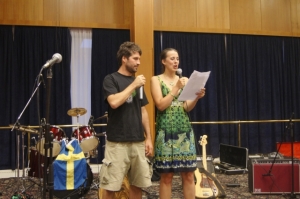 How it works, you are communicating with all the teams and Peter is organising everything in the background?
Peter is a supervisor of me and Martin at the moment. Martin stepped up very well and pretty fast and he is now managing web, ads, communication with hotels, choosing sport and evening venues etc. I am communicating with the teams and handling everything around it and finding new hostesses. But we have more and more tournaments and I am trying to speak other languages but I am not that good in French, German or Russian so I got Maria, Barbara and Iva to help me with the teams. I do not want to be irreplaceable. The organisation of the tournament can't collapse if a car hits me tomorrow. (laugh)
The youngest of the tournaments is bowling, how did you choose this sport?
Bowling somehow stayed with us after we organised European Company Sport Games. The first edition was not as numerous in teams as we expected but we fell in love with the participants. They are a bit older than the average football and ice hockey players so the atmosphere is different. They are often coming in pairs, they are dancing and singing a lot, they have rituals during the games and are celebrating all the small achievements. They are cheering for other teams, nobody is fighting. We do not want to leave that.
Do you have some goal you want to reach within the tournament?
I have this crazy dream of having ice hockey teams from the countries where ice hockey is not that common sport as Hungary, Croatia etc. When I get the ice hockey team from Jamaica, I can retire. (laugh)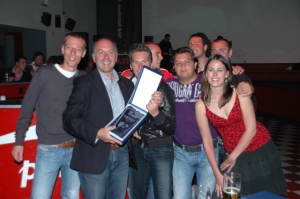 What story will you never forget from the tournament?
I like to say "What happens in the tournament, stays in the tournament". (laugh) But I will never forget this one guy from my Italian team. We were waiting for him to get to the bus to the pitch in the morning and suddenly he came up not from the hotel and yelled "sex machine", so everybody knew from which "house" he just came back. He was a bit green and had these big sunglasses to cover the fact that he had not been sleeping at all. He ran into the hotel to take his things and we went to the pitch. He played the first match, sometimes vomiting on the side of the line but drinking beer confidently. And between the matches he slept on the pitch. That was the pure Barrel spirit. (laugh)
And what I like to remember is when all the teams lived at the TOP hotel which was in the middle of nowhere so the only place you could have a beer at 5 AM was their casino, so all our favourite people eventually met there for the last "lullaby" beer. Those are great publishable memories.
What is that you like the most about the tournaments?
The atmosphere and the kind of people it attracts. Both colleagues and Barrelers. I am happy that with many we are able to re-create that atmosphere in mine or their kitchen or favourite pub.